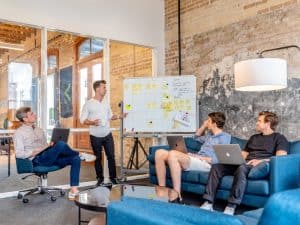 Imagine carrying on your Limited Liability Company (LLC)'s business as usual and being sued for breach of contract. During the suit, you find you signed the contract after the Oklahoma Secretary of State suspended your LLC because of an overdue filing. This scenario presented before Oklahoma courts several times in recent years, and the Court has consistently held while LLC is not liable for the breach, the member who signed the contract is (unless the LLC is reinstated with the Oklahoma Secretary of State and all required fees are paid).[1]
Oklahoma law gives personal liability protection to business owners who form Oklahoma LLCs, which is a predominant reason business owners create LLCs. Some common mistakes in LLC management can affect an LLC's status as an entity, its independence, its rights, and its existence.
5 Common Mishaps and their Effects on LLC Protections:
Reason #1: Forgetting to Document LLC Activity.
LLC members and managers should maintain written operating agreements, member contributions, loans, property transfers, payments to members, and other similar business activities. Forgetting to document the LLC's business activity can signal the members don't respect the LLC as a separate entity. A Judge may determine the LLC does not exist for personal liability protection purposes (based on the members' failure to document LLC activity), leaving the members personally liable.
Reason #2: Commingling Personal and LLC Funds.
Commingling personal and LLC funds includes depositing payments to the LLC in a personal bank account and using personal funds to pay business expenses. Commingling funds, like forgetting to document LLC activity, may show the members do not respect the LLC as a separate entity, and the members may be personally liable for the LLC's debts.
Reason #3: Forgetting to File the Annual Certificate and Pay the Annual Fee.
The Oklahoma Limited Liability Company Act requires LLCs to file an annual certificate and pay the applicable fee, currently $25 (18 O.S. § 2055.2). The annual certificate and fee are due each year on the LLC's formation anniversary. The Oklahoma Secretary of State may administratively terminate the LLC if it does not submit the annual certificate and fee within the 60 day grace period. A terminated LLC has no right to conduct business except to wind-up, pay debts, and end the business. The LLC must be reinstated (by submitting a reinstatement for with the overdue annual certificates and fees) before legally conducting business, or initiating and defending lawsuits. The Oklahoma Secretary of State may dissolve an LLC if no annual certificate is filed 3 years after the due date.
Reason #4: Signing Contracts in Your Name, Rather than as a Manager.
LLC managers should sign the LLC's contracts in their capacity as a manager (i.e. Name, Manager of Example, LLC). The signature lines in a contract generally identify the parties to a contract. A manager can make his or herself individually a party to the contract, rather than the LLC, by signing the contract without including the LLC in the signature line (example above). If the manager is individually a party to the contract, the manager may be personally liable for the contract, including damages for breach.
Reason #5: Operating Under an Unregistered Tradename.
Oklahoma law requires LLCs and other businesses to register their trade names. 18 O.S. § 1140. Registration connects the trade name to your LLC, which identifies your LLC as the entity conducting the business (See Reason #1 and #4 above). Registration also protects the trade name because using another entities' trade name is a deceptive business practice. Registration ensures another entity is not using your trade name, and that you are not inadvertently using someone else's.
Our attorneys at Rainey Law have served corporations and LLCs for over 100 combined years! We take pride in helping our client's businesses grow and succeed, which includes ensuring compliance with Oklahoma corporate/LLC laws. For more information on how we help you ensure your corporation or LLC protects you, see We Love Family Businesses, or contact us at 405-753-1500.
[1] See e.g., AT&T Advertising, LP v. Winningham, 2012 OK CIV APP 51, 280 P.3d 360; Barham v. Toney, Case No. CIV-14-388-JHP, (E.D. Okla., 2016); Romero v. Pro Sec., LLC, Case No. CIV-16-595-R (W.D. Okla., 2017).