We hope you all have a Happy Thanksgiving and enjoy meeting our pets. We think they're Purrrfect!
Daisy Rainey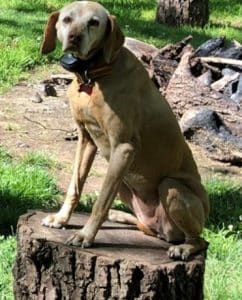 Daisy is a 19 year old Hungarian Vizsla, a breed of dog commonly used for Falconry. Daisy retired as a hunting dog last year because of her declining sense of smell and eyesight.
Her favorite things are table scraps. She is protective of her family and is one of the sweetest dogs you could meet, except when it comes to keeping her buddy Bavo away from her table scraps.
Bavo Rainey (right) and Loki Rainey (left)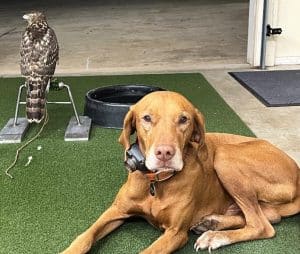 Bavo is a 7 year old Vizsla, and Loki's current hunting companion. Bavo is named after the Patron Saint of Falconry in Belgium.
Bavo loves to hunt, point, and flush game with his dad Rob and Loki. Loki's dad has been involved in Falconry since he was 8 years old.
 Loki is a 6-month-old Finnish Goshawk Falconry hunting partner with Rob and Bavo. Goshawks were known as the "Cooks Hawk" in medieval times, since they were so versatile and adaptable, and always filled the "cook's pot."
Loki's favorite meals include cottontails, jackrabbits, quail, ducks, pheasants, and crows.
Loki is also the Firm's mascot. If you don't believe us, compare his silhouette with the Rainey Law logo.
 Annie (right) and Phoebe (left) Ussery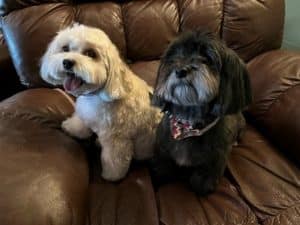 Annie is a 7-year-old Havanese, nicknamed the "Silver Princess." Annie is very prim and proper, and also quite demanding of attention – earning her royal title. Annie's favorite toy is her "Lambie" Multipet Lamb Chop Plush Dog Toy.
Phoebe is a 3-year-old Havanese, nicknamed "Trailer Trash Phoebe" and "Legless" because she demands to be carried. Phoebe very playful and just wants to snuggle.
Bobbie "Miss Bobbie June" Fairweather-Carter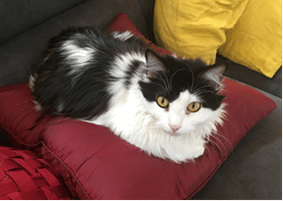 Bobbi is a smart and sassy 5-year-old beauty who was literally delivered to the front door by fate. After nursing her back to health from the brink of death, her mothers are forever under her spell. She hides, she hisses, and generally talks back when scolded, but when no one is looking, she is a lap cat who "blesses" her moms with sweet snuggles and purrs. She's no one's fool and has never once tried to go back outside after finding her furever home.
Lily Rose Fairweather-Carter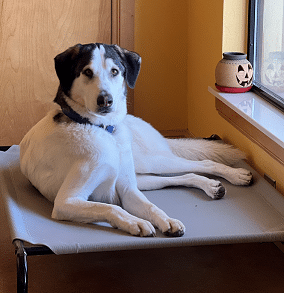 Lily Rose is as pretty and sweet as her name suggests, as beautiful as the day is long. She is a 3-year-old Husky, Pyrenees, and Doberman mix, so delivery people better beware when approaching! One quickly learns her bark is worse than her bite, and never a bigger snuggle bug has there been. She absolutely loves going on walks with her moms. Lily also immensely enjoys cat food, cat treats, and cat toys – leaving her mothers blaming themselves for raising her around so many feline siblings (she does think she's half-cat).
Jax Fairweather-Carter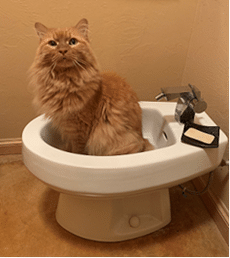 Jax is a 12-year-old rapscallion of a cat who purrs the loudest and most out of any other cat who ever graced the Fairweather-Carter family, and possibly the state of Oklahoma. He shares an identity crisis with his sister Lily, in that he comes when called, greets his moms at the door when they come home, and jumps up onto obstacles when commanded, acting much more like a dog than a cat. He enjoys dropping his toys into the water bowl, belly rubs, and his sister Lily's chicken and waffle dog treats [of course.] His favorite thing ever may be stealing his mom Amy's seat on the couch when she gets up. Every. Dang. Time.
Teague Fairweather-Carter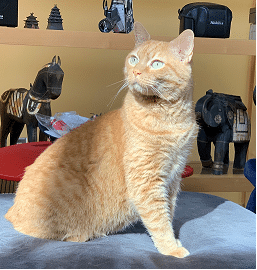 Commonly referred to [somewhat ironically- ask his mom about his life saving surgery] as the Handsome Gentleman of the Household, Teague is the littermate brother of Jax. Both were rescued by and adopted from Hands Helping Paws. Teague enjoys bread, his mom Kara's office chair, and neck scratches. He's never demanding, but when you receive a head butt asking for neck scratches, it's best to comply – he really doesn't ask for much else [as long as he's fed!] When moms are gone, he is in charge.
Mochi "Moo" Melders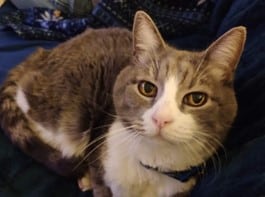 Mochi is 12-year-old domestic cat, adopted from the Oklahoma City Humane Society. Mochi is very social and loves to be around people (more hands to give him pets). His favorite things are yowling in the morning, scratches under his chin, his heating pad, sunbathing, and stealing all the blankets. Mochi also thinks he is in competition with his mom regarding who is his dad's favorite – obviously Mochi wins!
Dandelion Riddles-Hill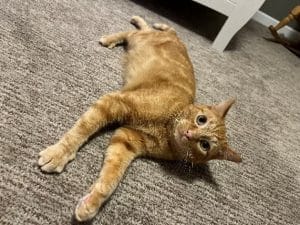 Dandy is agile, playful, and mischievous. He is not very smart, but he makes up for his lack of intelligence with an abundance of affection. He follows his humans around like a shadow, and every Amazon package that enters the house gets welcomed with his teeth marks.
Thackery Binx Riddles-Hill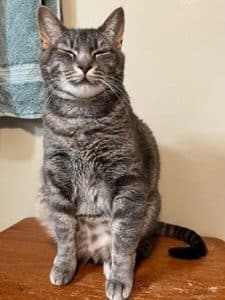 Binx is the best cat ever, but don't tell the other cats in the house that. He's patient, protective, cuddly, and smart. He's also a fiend for cheese and is very insistent about making his humans share it with him any time the cheese grater comes out.
Dinah Riddles-Hill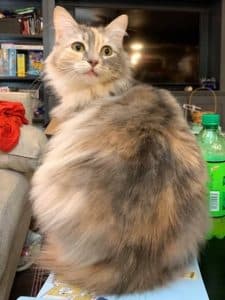 Dinah is laid-back and shy around new people. She's a happy girl and a total lap-cat, and she loves getting her fur trimmed at the groomer's. She's also affectionately regarded among her humans as a weird little plastic-licking goblin.
Sassy Riddles-Hill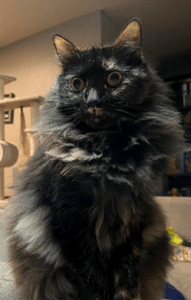 Sassy is a cat who's determined to be in charge of all the others, and they all know she's the queen. With her humans, she's incredibly sweet, and her most charming quirk is that she politely taps people on the arm with her paw to ask for pets.
Toph Riddles-Hill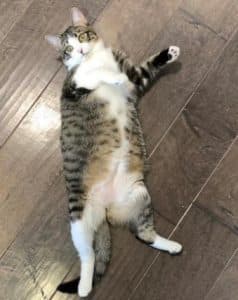 Toph is the youngest cat in the household, and she's a playful companion and a fierce hunter of human feet. Her favorite activity is batting the cats' water bowl until she topples it over. She is mostly blind, but that never stops her from living her kitty life to the fullest.