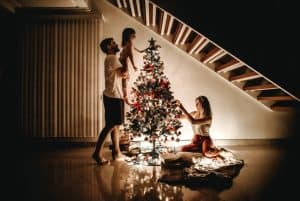 It's that time of year again when we make time to visit our loved ones for the holidays and hopefully create warm memories. For some of our clients, this time is bittersweet because memories are all they have. While they remember and are grateful for the good times shared, a lot also struggled to properly grieve because of the messes left behind by their loved ones. Often there was no will, no trust, no direction for the family to move forward, and no real room to grieve for months and sometimes years.
This year, think about how you can ensure you set your family up to remember the good times spent together. If you're leaving a mess, like the other 60% of Americans, consider these 5 Reasons to Gift Your Beneficiaries an Estate Plan:
Reason #1: Clear Instructions for Moving Forward. The death of a loved one is overwhelming for the survivors. Regardless of how your loved ones grieve, all your beneficiaries will appreciate the clear instructions set out in an estate plan for distributing your estate. This will allow your family to focus more on their memories of you, rather than wading through a mess of assets and red tape without a clue about what to do.
Reason #2: Easily Gifting Personal Items Left Behind. Generally, we want to leave our estate to our beneficiaries to make their lives, and the grieving process, a little easier. Even if a loved one leaves a will, the beneficiaries are tasked with searching for and finding the property left behind, which delays estate distribution and the beneficiaries' ability to accept and live with the loss. With a properly maintained trust, your assets are in one place under one document, and the trustee(s) can easily distribute any sentimental items like tools, jewelry, figurines, etc. that help your beneficiaries remember you.
Reason #3: Plans Cost Less than Messes. Getting involved in the public probate court system is the last thing anyone wants to do while grieving. While a trust may cost more upfront, publicly probating an estate (whether or not there is a will) could take over 9 months and cost at least $10,000 for smaller estates. A revocable trust would save your family time and may cost as little as $2,500-5,000.
Reason #4: You Chose Your Beneficiaries. The death of a loved one is more difficult for clients with unconventional family relationships. And the law doesn't care about your family dynamics. But we care, and we can help you create a plan that includes all your loved ones, even the ones not blood-related while taking your unique family dynamic into account.
Reason #5: Peace of Mind. Own the peace this season brings by ensuring your family is left with good memories and not messes. We never know what the next day brings, but an estate plan will relieve some of the burdens since you'll know your loved ones will be taken care of no matter what lies ahead.
We'd love to help you leave your family with memories, instead of a mess, with a custom estate plan! Complete our convenient online and confidential estate planning worksheet now, and we'll contact you to schedule a free consultation at our offices. For more information on how we can help you get your estate planning done, see Estate Planning Made Easy with Rainey Law, LLP.